Backpack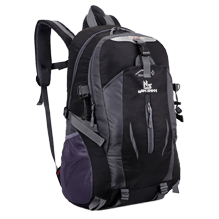 The Nordic Survive backpack is made of high-quality materials, designed not to lose their properties even in extreme weather conditions. The backpack is aesthetically pleasing and comfortable. Its dimensions are compact so that it is easily stored at home, in the car or in the office. This gives you the opportunity to take it anywhere with you and always have it at your disposal in case of emergencies. Nordic Survive`s backpack contents include everything necessary for surviving in crisis. Based on a comprehensive research, the selected tools are designated by professionals as the most important and needed in critical situations. Our carefully designed set combines effectiveness and reliability.
Discover all 11 high-quality survival tools included in the backpack.
Silicone Collapsible Water Bottle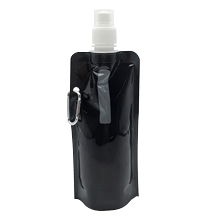 Plastic material is non-toxic, safe to hold water and provide drinks, it is lightweight and reusable, featuring long service time.
VERSATILE - This water bag is lightweight and portable, designed to bring convenience to outdoor activities and everyday life.
FOLDABLE -Fold & Flatten, Perfect for travelers, and camping, this bike water bottle is so convenient; with various ways of keeping it compact.
ATTACHABLE - With a hook on the top of the water bag, designed for hiking and cycling, it can be attached to a backpack or bike for convenient fixation.
SPOUT - The cap has a leak-proof, airtight structure, so you don't have to worry about water leaks.
EASY TO CLEAN - The cap has a wide mouth, easy to wash, clear material observe if the water quality is clean, find the scale early and clean it as soon as possible.
LED Tent Lamp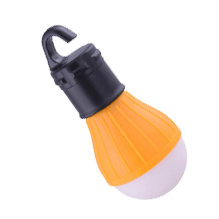 The camping light is powered by AAA batteries. It has diffused light and energy saving ball LED bulb. The camping lamp can be hung on a tent or a branch. This is a good way to lighten your camp or tent in the night. The white opaque lampshade makes the light brighter and more concentrated. The ABS material is lightweight, compact and durable.
Emergency Foil Blanket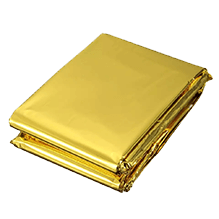 Emergency foil blanket provides compact protection in all weather conditions Made of durable insulation material, these foil blankets retain/reflect 90% of the body heat. They are waterproof and sustainable.
Emergency survival blankets can be used as emergency shelter. Also great for camping, hiking, and surviving the cold outdoors. Excellent as a liner of a sleeping bag or stretcher.
Under the hot sun, the emergency blanket can be draped over one`s body to protect to avoid direct sunlight. When cold weather hit in the field, the emergency blanket wrapped around the body can absorb and reduce the body heat loss.
When one is lost in the wild, the emergency blanket can use its reflective role in helping rescue workers find their target.
Rain Poncho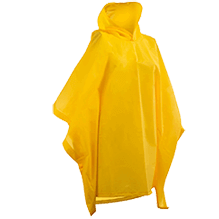 Our reusable and high waterproof poncho contains fabric and PVC waterproof coating. It has a double anti-complacent breathable mesh body design, hidden hoody, bodysuit, and security waterproof pocket. Crucial for enduring heavy rainfall without getting soaking wet. It also can be used to cover the body under burning sunlight without containing excessive body heat.
Tactical Flashlight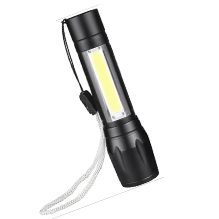 Ultra bright LED flashlight, compact and incredibly durable and waterproof. Designed with a durable aluminum alloy, it has a belt clip, strap and multiple light adjustment settings with three main modes - low light, strong light and an SOS mode (with extremely bright flashing lights). Our outdoor flashlight has a USB and light rechargeable function. It comes with a USB cable in a box.
First Aid Kit
First aid kit is not only necessary for the safety of car drivers, but also the safety of outdoor travel and sports. It can be used in the daily life of the family, especially for the elderly and the children. High-quality standards of professional emergency items contained in Nordic Survive`s kit can come in handy in any situation. No matter if on the way or at home, after an accident occurs, before the arrival of the ambulance, the first use of the kit to stop bleeding (or else) can preserve health and save lives. Ordinary first-aid bags can not be used for a longtime in rainy and snowy weather. Nordic Survive`s first-aid package has special canvas. After waterproofing process, it is more waterproof than ordinary first aid kit or any other first aid kit designated for outdoor for survival.
Tactical Bracelet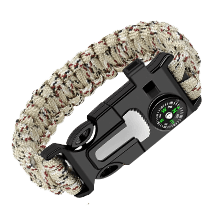 One of the highly recommended items by hikers and mountaineers. Our 5-in-1 bracelet is multi-functional combining a flint fire starter, compass, emergency whistle, emergency scraper and parachute rope. The tactical bracelet can be used for building an emergency shelter, fixing equipment, signaling or just like a regular bracelet. It is simple and comfortable to wear during hiking. It has a polymer buckle for attaching to the wrist or to equipment.
Aluminum Carabiner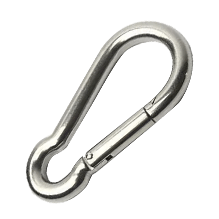 Heavy load resistant, heat treated, drop forged, tempered and quenched aluminium carabiner is also present in the Nordic Survive`s set. Manufactured by stainless steel.
Standard: EUROPEAN TYPE, JIS TYPE, US. TYPE, DIN TYPE. Surface: Hot dipped galvanized, Electro galvanized, Self-colored.
Multifunctional Lighter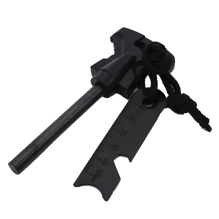 Extraordinary tool for survival used by the pro`s.
Components:
● Flint block
● Impact bolt built into a screw cap
● Jagged edge
● Ruler
● Chain for fastening to other appliances for easy accessibility
The jagged edge of the fulminator may be used to scrape off wooden fibers and to be used as kindling.
Multifunctional Tool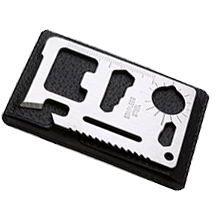 The multifunctional Survival 11-in-1 tool is a card. You can bring it on camping, hiking, fishing and anywhere else. Keep one in your car, toolbox, backpack or wallet. It features 11 important and essential tools:
1. Tin opener: the lower hook is used together with the upper blade to open the tin can easily.
2. Side knife: sharp blade, cutting rope, fruits, etc.
3. Screwdriver: it is located at one corner of the card.
4. Ruler: metric scale is adopted, and the minimum scale is mm.
5. Bottle opener: suitable for opening bottle covers.
6. Positioning spanner: four different types of hexagon wrench, suitable for the size of bolts and nuts used daily.
7. Open spanner: the long hollowed-out groove can be used to twist any flat, thin, thick object with a screw.
8. Serrated: double serrated cross serrated to increase strength and efficiency, for sawing wood branches and removing fish scales.
9. Direction indicator: it can accurately measure different directions with a scale of 16 equal parts.
10. Positioning wrench: two different types of hexagon wrench.
11. There is a round hole in the diagonal of a one-word screwdriver. The card can be hung on the key ring.