Backpack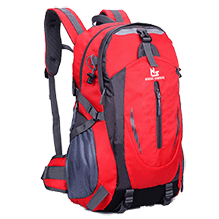 The Nordic Survive backpack is made of high-quality materials, designed not to lose their properties even in extreme weather conditions. The backpack is aesthetically pleasing and comfortable. Its dimensions are compact so that it is easily stored at home, in the car or in the office. This gives you the opportunity to take it anywhere with you and always have it at your disposal in case of emergencies. Nordic Survive`s backpack contents include everything necessary for surviving in crisis. Based on a comprehensive research, the selected tools are designated by professionals as the most important and needed in critical situations. Our carefully designed set combines effectiveness and reliability.
Discover all 14 high-quality survival tools included in the backpack.
Multifunctional pliers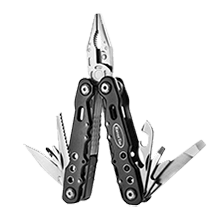 Strong, reliable, and easy to handle, RoverTac Multi-tool Pliers is designed to tackle almost all jobs in almost every situation. Featuring an ergonomic design, durable stainless steel construction, and a secure locking system, this lightweight multi-tool integrates 12 convenient tools that will make a huge difference. The Needle-Nose Pliers are the center of this tool, unlike bulky squared-off pliers on many multi-tools, they are designed for the tightest of spots.
This 12-in-one Tool Includes: Long Nose Pliers, Standard Pliers, Wire Cutter, Saw, Slotted Screwdriver(S), Slotted Screwdriver(L), Philips Screwdriver, Large Slotted Screwdriver, Bottle Opener&Can Opener, Large Flat Screwdriver, Cone Knife, Sharp Knife
LED Tent Lamp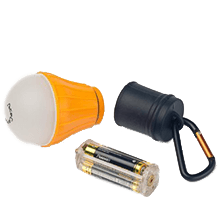 The camping light is powered by AAA batteries. It has diffused light and energy saving ball LED bulb. The camping lamp can be hung on a tent or a branch. This is a good way to lighten your camp or tent in the night. The white opaque lampshade makes the light brighter and more concentrated. The ABS material is lightweight, compact and durable.
Emergency Foil Blanket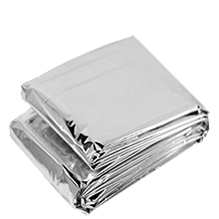 Emergency foil blanket provides compact protection in all weather conditions Made of durable insulation material, these foil blankets retain/reflect 90% of the body heat. They are waterproof and sustainable.
Emergency survival blankets can be used as emergency shelter. Also great for camping, hiking, and surviving the cold outdoors. Excellent as a liner of a sleeping bag or stretcher.
Under the hot sun, the emergency blanket can be draped over one`s body to protect to avoid direct sunlight. When cold weather hit in the field, the emergency blanket wrapped around the body can absorb and reduce the body heat loss.
When one is lost in the wild, the emergency blanket can use its reflective role in helping rescue workers find their target.
Dynamo USB Charger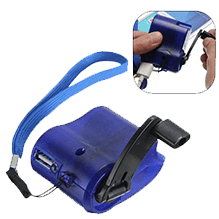 You will never have a low-battery device, again.
It is suitable not only for mobile phones, but also for all electronical devices with USB ports.
This is a portable mini emergency hand-cranking dynamo charger. It transforms the mechanical energy into electric energy, charging your mobile phone or digital devices at any place and at any time. Convenient and useful. Crucial for preserving connectivity with the world in emergency situations outdoors. Very useful tool for every travel.
Charge for about 3 min. can maintain 5-10 min. mobile phone talking time and 3-8 hours standby time (actual data depends on the specific characteristics of your device). It operates with 5V output, suitable for charging various USB devices, including mobile phones.
The incorporated LED light can also be used as an indicator light and emergency illumination light.
Rain Poncho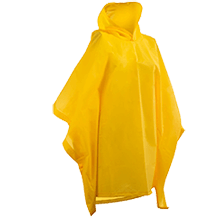 This poncho contains a high waterproof fabric and PVC waterproof coating. It has double anti-complacent breathable mesh body design, hidden hoody, bodysuit, security waterproof pocket. Crucial for enduring heavy rainfall without getting soaking wet. Can also be used to cover the body under burning sunlight without containing excessive body heat.
Personal Mini Water Purifier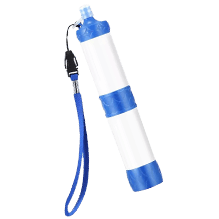 This is the ultimate survival tool for hiking, camping, ultralight backpacking, hunting, travel, scouting, and emergency preparedness. Its straw design is ideal for purifying water from streams, lakes, ponds and other contaminated sources.
This Personal Water Filter contains no chemicals, no batteries, or moving parts to wear out. It features a high flow rate and weighs only 80g.
This filter is Ultra Membrane Filter, the use of plastic is ABS food grade plastic, the use of more rest assured. Another feature is that it can be pressurized, pumping, such as pumping from the river to the bottle, while filtering, and collecting water outdoors is a very important thing.
Tactical Flashlight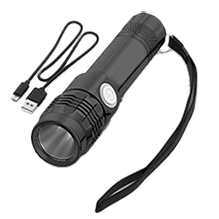 Ultra bright LED flashlight, compact and incredibly durable. Designed with a durable aluminum alloy, it has a belt clip, strap and multiple light adjustment settings with three main modes - low light, strong light and an SOS mode (with extremely bright flashing lights).
First Aid Kit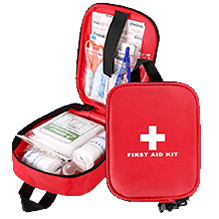 First aid kit is not only necessary for the safety of car drivers, but also the safety of outdoor travel and sports. It can be used in the daily life of the family, especially for the elderly and the children. High-quality standards of professional emergency items contained in Nordic Survive`s kit can come in handy in any situation. No matter if on the way or at home, after an accident occurs, before the arrival of the ambulance, the first use of the kit to stop bleeding (or else) can preserve health and save lives. Ordinary first-aid bags can not be used for a longtime in rainy and snowy weather. Nordic Survive`s first-aid package has special canvas. After waterproofing process, it is more waterproof than ordinary first aid kit or any other first aid kit designated for outdoor for survival.
Multifunctional Camping Rope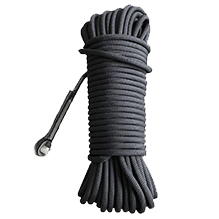 The rope is 10 meters long. It is made from 100% nylon and is can be very useful in a variance of situations. You can carry wood or other heavy objects with it, and it can be used in any emergency situation when a rope is needed. The individual threads can be used for fishing or sewing threads among other things.
Tactical Bracelet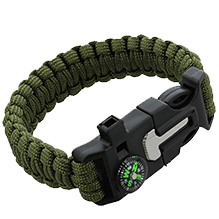 One of the highly recommended items by hikers and mountaineer. The tactical bracelet can be used for building an emergency shelter, fixing equipment, signaling or just like a regular bracelet. It is simple and comfortable to wear during hiking. It has a polymer buckle for attaching to the wrist or to equipment.
Aluminum Carabiner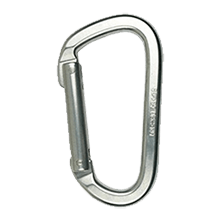 Heavy load resistant, heat treated, drop forged, tempered and quenched aluminium carabiner is also present in the Nordic Survive`s set. Manufactured by stainless steel.
Standard: EUROPEAN TYPE, JIS TYPE, US. TYPE, DIN TYPE. Surface: Hot dipped galvanized, Electro galvanized, Self-colored.
Multifunctional Lighter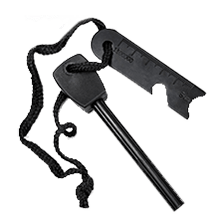 Extraordinary tool for survival used by the pro`s.
Components:
● Flint block
● Impact bolt built into a screw cap
● Jagged edge
● Compass
● Ruler
● Chain for fastening to other appliances for easy accessibility
The jagged edge of the fulminator may be used to scrape off wooden fibers and to be used as kindling.
Stainless Collapsible Cup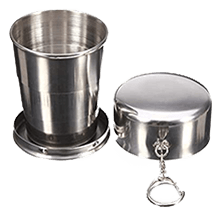 High-quality cup, manufactured by stainless steel. With small and exquisite appearance, it is convenient to carry. Retractable design, easy to use. With a key ring, occupies little space in your travel bag. Suitable for camping, hiking, mountaineering and other outdoor activities and necessities.